Thanks for
Your Incredible Feedback:
I did get some great feedback from you, about how you like
this special handpainted design,
So because of that a...,
Behind the Scene Insight About
The Making of the Handpainted Peacock Wall Clock: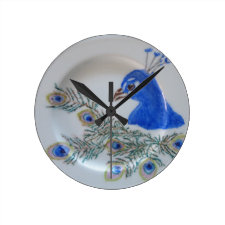 Handpainted Peacock Wall Clock
by
EdelhertDesignStudio
This particular Design is one of the many
Peacock Designs
, and this one is Inspired by a Photo from
a
Peacock
taken in a Park in
Madrid
.
It's orignially painted on a porcelain plate.
Together with a group we take the time for Creating Art.
It's Inspiring and Relaxing.



It takes two gatherings to finish the Artwork:

1) Painting the Background

2) Painting the Details.

In between it goes into the Oven to fixate the Painting.
Peacock Designs Gifts:
Pacock Gifts More than 40 US$
Peacock Keepsake Box:
This
Great Gift Idea
is great to hold

Watches, Jewlery
,
Photo's
etc.
— Edelhertdesignstudio (@dvanduuren1) 14 december 2017
— Edelhertdesignstudio (@dvanduuren1) 14 december 2017





Peacock Gifts Between 20 and 40 US$



Peacoc Gifts between 20 and 40-US$ (Like the Peacock Design Wall Clock)



(Read More about Peacocks on Wikipedia)
Other Peacock Gifts:
PEACOCK GIFTS

between 20 and 40 US$

Hand painted Clock, Flip Flops, T-shirt, Lunchbox, Melamine Plate, Small Square Tray, Spiral Heart Notebook, Cosmetic Bag, Medium Gift Box, Water Bottle, Sugar Cookies and Desk Name Plate.

https://t.co/luabAMTFLn pic.twitter.com/X2mvE0Z8Yf

— Edelhertdesignstudio (@dvanduuren1) 6 december 2017





Peacock Gifts for Under US$ 20 (Pens)

Peacock Gifts for Under US$ 20 (Postcards)

Other Peacock Gifts for Under US$ 20
Read About an Other
'Making Off' Story in Our Blog Post Titled:






The Making Off
the Fantacy Toucan Bird Mosaik