Don't You Think It Feels Great to Buy
A - Traditional - EVERGREEN Product Like
The Funny Talking Parrot?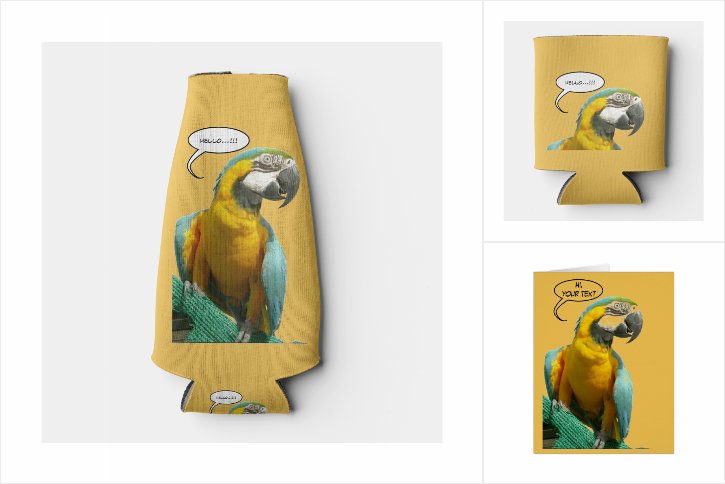 Funny Talking Parrot Collection
by
Edelhert Design Studio
Thanks - Design Enthousiast - for having a look at our Blog today,
and thanks for buying our Products
,
Did you ever had a time that you thought
'This Must Be a Sign ...?'
Can Cooler with
Customizable Text:
The
Funny Talking Parrot
with a special
- Text Balloon -
with
Customizable Text
,
Is one of our first really Successful Designs
that you actually bought, and that helped
to make us some of our first Sales! :)
In the Garden we have a few plastic
colorful parrots
, and today one fell on the ground
because of the wind, so we had to pick it up.
Reminding me
that besides our recent
Brand New
SUMMER TIME: Cartoon Octopus
Can - & Bottle Cooler Designs

We also already have several other
Can- & Bottle Cooler Designs including
Our EVERGREEN (actually doing well selling),
Funny Talking Parrot Design,
So maybe there is a reason that the Parrot did ask
for our attention
so, today
I show you it in this blog post
to give it to your attention! :)
We Also Have Many More
Other Designs:
Look At Many More Can-
& Bottle Coolers



SUMMER TIME NAPKINS:

Also Look At
Our SUMMER TIME NAPKINS!